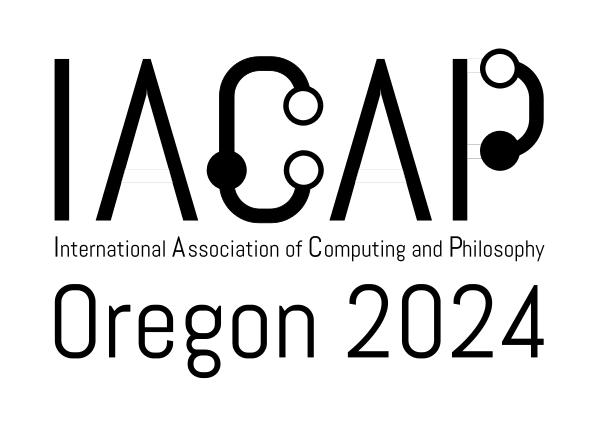 The International Association for Computing and Philosophy (IACAP, https://www.iacap.org) has a long-lasting tradition of promoting philosophical dialogue and interdisciplinary research on all aspects of computing as it relates to philosophy. IACAP's members have contributed to shaping the philosophical and ethical debate about computing, information technologies, and artificial intelligence.
After its 2023 conference in Prague, IACAP is pleased to put out this call for abstracts for on-site presentations for its 2024 conference.
Conference dates: July 8-10, 2024.

Conference location: Eugene, Oregon, USA.
Conference host: Department of Philosophy, University of Oregon.
Important Dates
Abstracts (up to 1000 words) due date: January 5, 2024.
Symposia Proposals due date: January 5, 2024.
Notification of acceptance: March 31, 2024.
Conference registration opens: March 1, 2024.
(In case you need a visa, please note this with your submission so that we can facilitate an early review.)
Abstract and Symposia Submission link (with detailed submission information):
https://pretalx.iacapconf.org/iacap-2024/cfp
Special Tracks
Epistemology of ML
Machine learning technologies from deep neural networks to language models are being increasingly used in both formal and practical inquiry—e.g., science, policy-making, finance, etc.—in novel and important ways. Yet, their epistemic properties, roles, import, and status are far from established. We invite papers that explore epistemological matters in ML technology.
Ethics of AI
The recent rise in the use of multimodal data science technologies—often categorized under the umbrella of AI—in diverse socially consequential contexts (e.g., governance, medicine, etc.) has brought with it an abundance of ethical concerns across several domains deemed of moral relevance. While much has been written on the possible harms of AI technologies related to discrimination, privacy, governance and automation, an ethics of AI from a philosophical perspective can also offer a much more fundamental understanding of ethical concerns that go beyond just the accounting or the mitigating of harms. We invite papers that aim to expand on this latter, broader dimension of ethical concerns in AI.
Keynote Speakers
Covey Award Address – To be announced.
Simon Award Address – To be announced.
Topics
Accepted topics include but are not limited to:

Algorithmic Opacity and Bias
Artificial Life and Moral Agency
Autonomous Weapon Systems
Cognitive Science, Computation, and Cognition
Computational Modelling in Science and Social Science
Computer-Mediated Communication
History and Philosophy of Computing
Information Culture and Society
Metaphysics of Computing
Philosophical Implications of AI
Philosophy of Information and Philosophy of Information Technology
Robotics
SIG: Mind and Machines
Societal Impact and Ethical Problems of AI, Computation, and Information
Virtual Reality
Special Track: Epistemology of ML
Special Track: Ethics of AI

Please feel free to distribute this CFA widely.
Submit a proposal: https://pretalx.iacapconf.org/iacap-2024/cfp